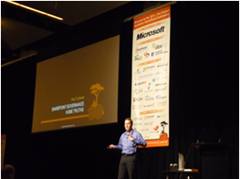 I recently participated in the Australian and New Zealand community SharePoint conferences and had a blast. First up, I was given the opportunity to keynote the Australian conference on day 2, where I spoke about SharePoint Governance home truths. It received very positive feedback and I was told by a lot of people that it really made them rethink their governance approach. In fact, in the New Zealand session, as I was going through some of the common mistakes people make, I could see people cringing as they knew they were guilty as charged. One attendee buried her head in her hands when I started talking about the "buffet of platitudes" (what is the "buffet of platitudes" you ask? Come to my class to find out! 🙂
The community challenge in Australia was a real highlight. This was a new addition to the conference where a group of conference attendees delivered a SharePoint solution for a not for profit organisation. WorkVentures was the organisation selected and the challenge progressed over three sessions, facilitated by SharePoint community leaders. Session one (Define and Design), was a business session which aimed to work through the high level requirements that WorkVentures had for an intranet, their aims for what they hope it would achieve and what they wanted included.  
This post was written on the assumption that you are familiar with some of Seven Sigma's methods. If not, then we suggest you stop and read a couple of foundational posts first – especially if these maps do not mean much to you.
The Importance of Goal Alignment…
Nick Hadlee was supposed to chair this define and design session, but was unable to get to the Australian conference due to the earthquake events in Christchurch. As a result, I ended up inheriting this role, so I roped in Andrew Jolly to help me on this, because we have a lot in common and work in a similar way. User surveys had been conducted with WorkVentures staff and management, which gave some insights into potential focus areas for SharePoint. Even so, I had no way of knowing whether those potential focus areas made strategic sense. To resolve this issue, we examined WorkVentures 2009 Annual Report to understand their core purpose and strategic focus areas and various business units. After all, it is all well and good to develop some SharePoint functionality, but if you can't see how that component helps achieve strategic objectives, how do you know it is the right thing to do?
The annual report proved to be a goldmine. It stated that WorkVentures had embarked on an enterprise improvement strategy prior to SharePoint and the community challenge being on the radar. This enterprise improvement plan, incorporating quality management, IT, HR and business strategy development, provided us the context to focus SharePoint as an enabler that fitted within the plan.
Andrew wasn't due to fly into Sydney until the evening before the conference. So the day before the conference, Debbie Ireland and I visited WorkVentures on-site, meeting with the CEO, CFO and Marketing Director. The purpose of this visit was to ensure a shared understanding among us all of the alignment of the SharePoint community challenge outputs to the WorkVentures vision, purpose and strategic focus areas. From this conversation, which I mapped, some really interesting stories enabled them to pinpoint one of the key success factors for any SharePoint implementation at WorkVentures – "Bridging Silos".
Ultimately, we identified four key areas of strategic focus for SharePoint that aligned to WorkVentures strategic goals. Below is a screenshot of the end-to-end alignment in map format . This map was used during the "define and design" conference session to help focus attendees on the purpose of SharePoint for this organisation, as well as noting the key areas that we would have to do well, to consider SharePoint a success.
Stories that led to the goal
Lawrence Luk – the CFO of WorkVentures told Debbie and I several captivating stories that surfaced the bridging silos area of focus. One interesting facet of WorkVentures was that staff from the whole organisation came together once per year – at the Christmas party. This is because each WorkVentures "division" or "business unit" is in effect a separate mini-company, with different goals, customers, vertical markets and regulatory requirements. Thus the problem of silos isn't a negative one in the sense where dysfunctional "culture" is blamed as such. More that it was the simple fact that each business unit didn't have a lot in common with other business units. The silo effect was a by-product and it was not driven by negative behaviours.
A great example of this was one particular business unit, Connect IT. It solicits organisations to donate old PC's, which provides opportunities for skills development for disadvantaged people by teaching them how to refurbish these PC's. These refurbished PC's are then sold at low cost. A KPI for this program is the number of organisations donating old PC's to WorkVentures to sustain ConnectIT. Lawrence had the experience where WorkVentures financial auditors, who had been doing the books for two years prior, asked him why they hadn't been approached to donate PC's as they had some. Lawrence realised that he almost missed a great opportunity to help the ConnectIT division achieve one of their key KPI's. Furthermore, the auditor should never have had to ask themselves. Instead all WorkVentures staff should have this core KPI instilled and internalised so that they could proactively seek out these opportunities to help the other business units.
Another couple of interesting contextual facets illustrated that there were other forms of silo that went beyond a purely divisional basis:
Most backoffice staff had never been to the Campbelltown office, where all of the "coal face" work took place with the community.
English was a second language to many staff.
Not all staff had their own PC's.
These stories catalysed the conversation to many other examples of missed opportunities, where one business unit has the means to make a massive difference to the results of another. On reflection, it was realised that the nature of WorkVentures business units, being so independent of each-other, inevitably had a silo effect. There was a lack of awareness organisation-wide of the core KPI's of each unit, hence bridging (not breaking) these silos became a key theme. If SharePoint was to have a long lasting, successful legacy, then it had to play a part in addressing this issue.
The define and design session live…
From there, with invaluable help from Andrew Jolly, we planned and then executed the requirements session with a conference audience of around one hundred people. We split the session up into several areas and the map below shows how we structured it.
After Microsoft did their intro, Debbie explained the context of the community challenge via a short PowerPoint presentation. I then took the chair and explained the vision and areas of focus map (the image above) and stressed to the audience that they were going to be participating in this session as well. I also stressed that no matter what solutions or ideas they came up with, they had to justify them against the four key focus areas, which I went through.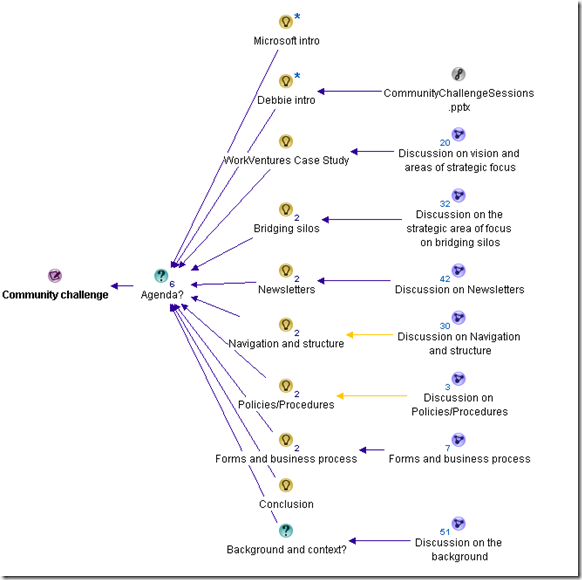 Then we got down to business where I dialogue mapped, with Andrew and I co-facilitating. We decided to focus people's attention to the core goal of bridging silos as a topic area itself, and ask the audience how SharePoint could indeed bridge silos. We utilised three of the examples that Lawrence gave us  and then leveraged the wisdom of the (large) crowd to solicit ideas. Below is the dialogue map that shows the richness of this discussion (click to enlarge). You will see in this map that for each story told to us by Lawrence, we asked the question "How could we mitigate this with SharePoint?". The purpose of asking the question this way helped the audience to focus on SharePoint as an enabler to a greater end – and not to be a tool looking for a problem to solve.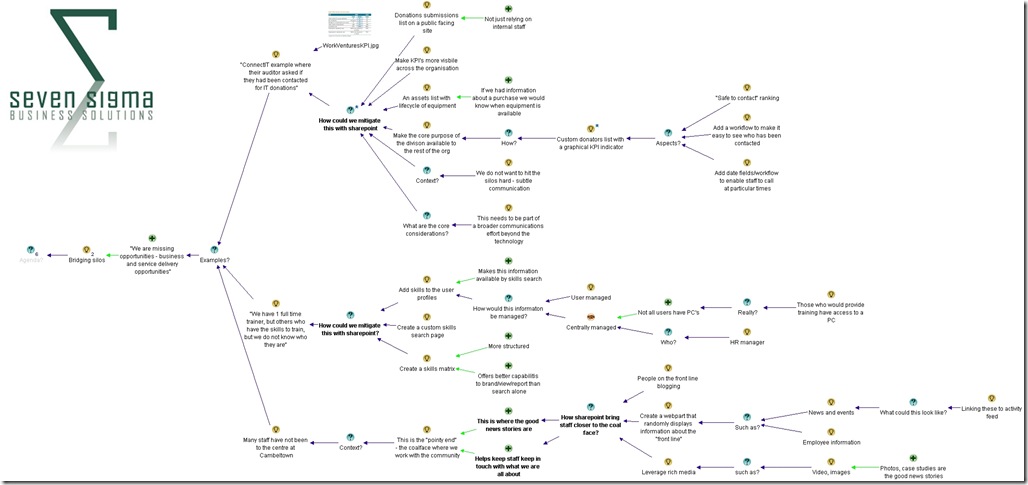 Given that we only had around 45 minutes to work with, Andrew and I could only spend around 15 minutes on the bridging silos area. But the map above shows that a lot of very valuable rationale from the audience was captured. The real benefit though was focusing the audience onto the broader goals and how SharePoint could enable them. This was critical to do, because now we had to switch focus from the lofty world of goal alignment to focusing on how SharePoint building blocks could be used to achieve specific ends.
We examined how SharePoint could augment the existing newsletter based method for dissemination of information within WorkVentures. We showed the audience what sample WorkVentures newsletter looked like and reviewed some of the key contextual aspects to newsletters within WorkVentures in terms of their creation, management, reach and format.  We reminded the audience about the importance of bridging silos and then called for ideas from the audience as to how SharePoint could improve the dissemination of news. What was particularly great about this session was that audience members began to relate SharePoint ideas against the key focus areas and identify some of the governance aspects that would be required to make it work.
For example, if you look at the map below (click to enlarge), one of the ideas for the newsletter was a fairly technical one: leveraging "word automation services to extract list or story items and create a PDF". On first glance one might think "wow that's fairly heavy" (and not to mention quite nerdy), but the justification for this idea was that it would still account for those WorkVentures users who do not have a PC and therefore access to the portal. Another idea was "Have backoffice staff create the content" on the basis that in doing so, they would get a better feel for coal-face issues that they typically do not see normally. When you think about it, this idea is not SharePoint at all, but more of a strategy for how SharePoint should be adopted and accountabilities for doing so (i.e. a governance approach!)
The key point here is that In both of these examples, audience members were clearly relating their ideas back to the previously established goals, which in turn were aligned to the WorkVentures vision, purpose and key strategic focus areas. Not bad for a couple hours work eh?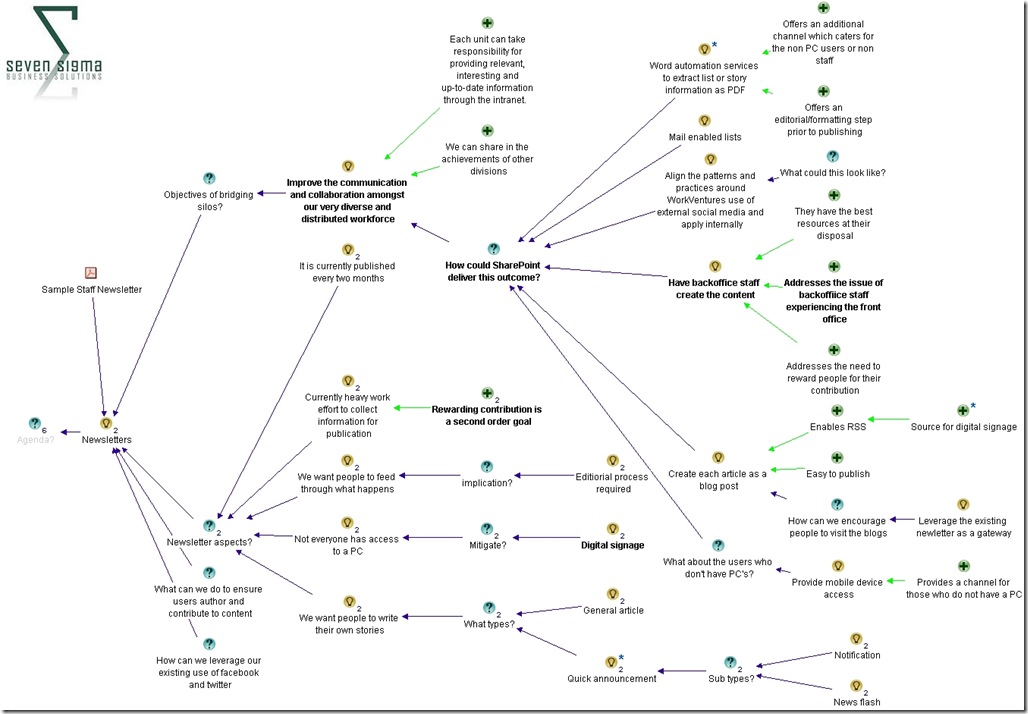 With the little time that we had left, we also looked at site navigation and structure, where the audience resolved that WorkVentures would be best served by a hybrid navigation model that was functionally driven primarily (i.e. task based navigation), but then divided into divisional areas. (As opposed to a purely organisational structure driven navigation model).
As you can see below, we made a point of always showing the four areas of focus for SharePoint overall, to ensure that decisions made were informed by them.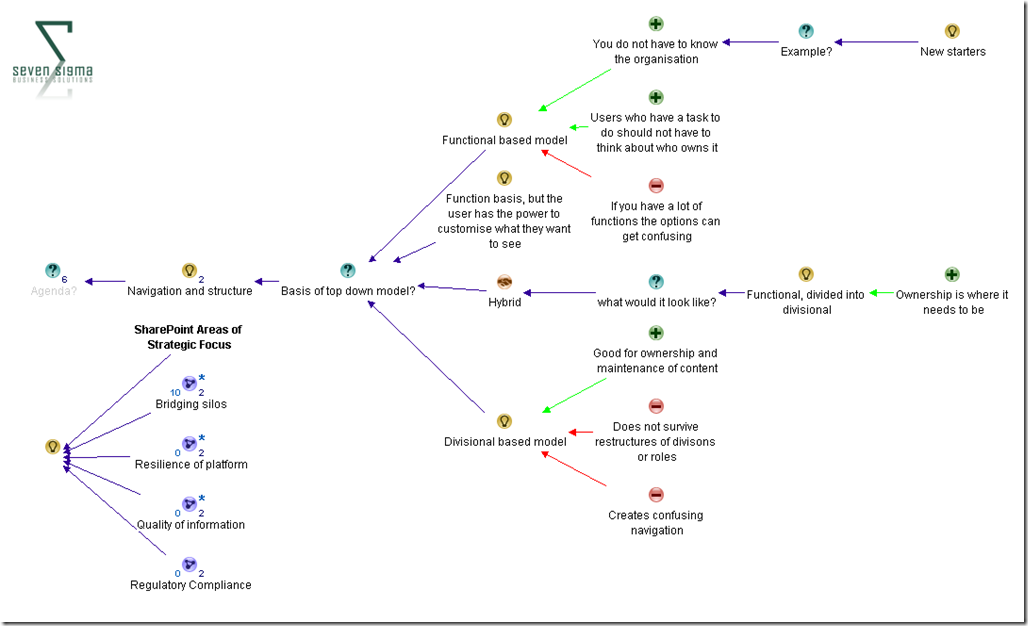 Conclusion
I have to say that given the timeframe and constraints, I think we did a great job of developing a shared vision for SharePoint, how it fitted into WorkVentures organisational and strategic context, and then focusing a diverse audience into looking at SharePoint building blocks through that lens. The dialogue maps were very rich, with some terrific ideas, and WorkVentures staff were thrilled to see the alignment of SharePoint to their strategic goals.
I use similar methods to this for non IT projects too, and I think that if we had a week to work on WorkVentures, we would have created something really special. Nevertheless, from my point of view, I think that the community challenge is an terrific idea, I enjoyed being a part of it, and I have to offer special thanks to Debbie and Andrew in particular for helping to make this into a really great mini-engagement. Hopefully we can do it all again next year.
Paul Culmsee